The Bracket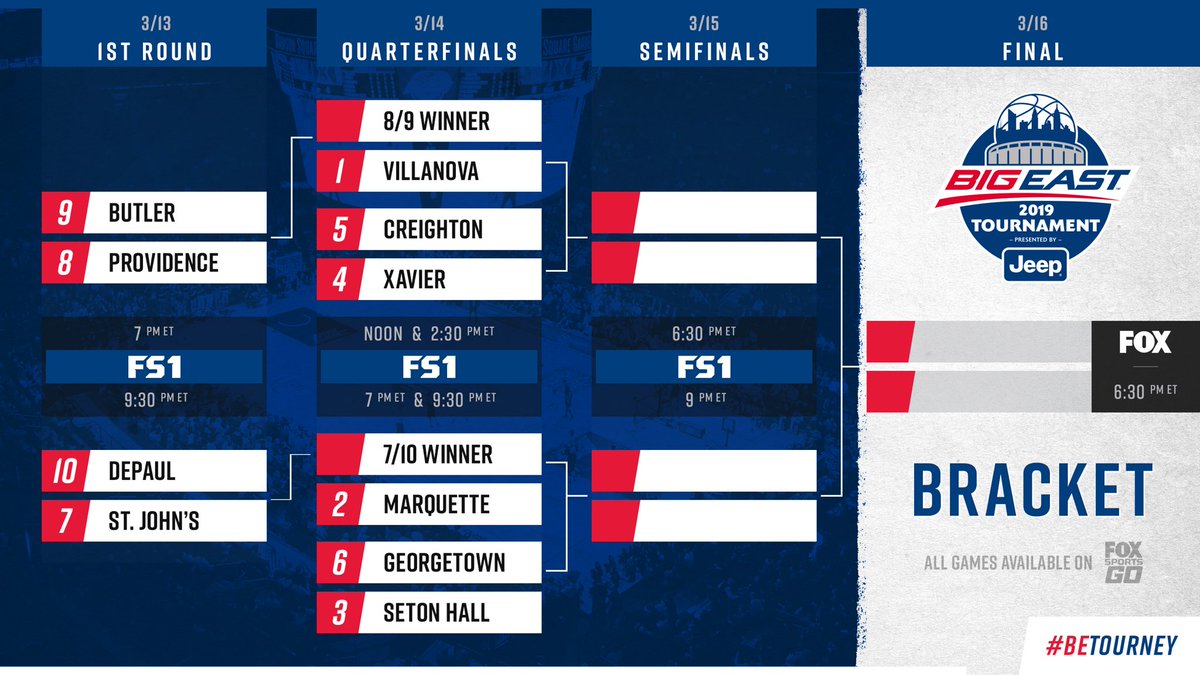 How To Watch
First Round (Wednesday, 3/13)
#8 Providence vs #9 Butler (7 PM ET, FS1)
#7 St. John's vs #10 DePaul (9:30 PM ET, FS1)
Quarterfinals (Thursday, 3/14)
#1 Villanova vs TBD (12 PM ET, FS1)
#4 Xavier vs #5 Creighton (2:30 PM ET, FS1)
#2 Marquette vs TBD (7 PM ET, FS1)
#3 Seton Hall vs #6 Georgetown (9:30 PM ET, FS1)
Semifinals (Friday, 3/15)
TBD vs TBD (6:30 PM ET, FS1)
TBD vs TBD (9 PM ET, FS1)
Championship (Saturday, 3/16)
TBD vs TBD (6:30 PM ET, FOX)
Bracketology
*As of 3/10*
Marquette – 5 Seed
Villanova – 6 Seed
Seton Hall – 10 Seed
St. John's – 11 Seed (Last Four Byes)
Creighton – First Four Out
Geotgetown – Next Four Out
The Picks
The Early Round Upset
The Big East is hilariously average this year. Every team is above .500, but no team ranks in the KenPom top 25, making this a conference pretty ripe for upsets. For my pick, I'll take Butler over Providence on Wednesday. Both of these teams have been largely uninspiring this year, but Providence ranks as the #300 shooting team in the country (47.8 eFG%) and if you can't shoot to begin with and then have a bad game, it's all over for you. Butler and Providence played twice in the past two weeks, and Providence won both games, but I just can't trust the Friars in a tournament setting, and I'll take Butler to avenge those losses and keep their faint NCAA Tournament hopes alive.
The Darkhorse
This one is pretty easy for me, its Xavier. Marquette finished losing four straight, Villanova finished 3-5 in their final eight and St. John's dropped four of their last five. Xavier finished winners of six of their final seven, and they'll be fighting desperate because a poor start to the year has led to them needing the auto bid for a spot in the big dance. Whoever wins the Creighton-Xavier game is going to be very dangerous for Villanova. Both of the teams shoot the ball well, and they split the season series, I just side with Xavier because of their size and ability to slow the game down and force Creighton to play at their tempo. As long as this Xavier team can keep the turnovers to a minimum, they will be a dangerous out and could be a potential bid thief.
Semifinals and Title Game
Xavier beat Villanova for the first time in three years a couple of weeks ago, and they did it by double digits. It really is tempting to pick Xavier to go through and be a bid thief, because I think this team has the talent to do it, but at the end of the day, no matter how they finished the season, I'm taking 'Nova. As much as Jay Wright in a tournament setting used to be a joke, he has proved the haters wrong over the past few years, especially at MSG. The Xavier-Nova semi will be a lot closer than most expect, but I like the way Villanova shares the ball to get open looks, and I think they win a tight one and advance to play Marquette. The Golden Eagles frankly looked awful to end the season, but if you don't think Steve Wojciechowski has drilled into his guys at practice the past few days, you are crazy. Led by Markus Howard, Marquette is one of the best shooting teams from deep in the country (39.4% from three) and I love teams like that in tournament settings, so give me Marquette-Villanova III in the title game.
On the morning of February 27th, the only way Marquette could not win at least a share of the Big East Championship would be if they lost all four of their remaining games. The Golden Eagles then proceeded to lose all four of their remaining games. I don't love either Marquette or Villanova, but I think I've been the low man on Marquette all year, even back then they were floating around the AP top ten, and this cold streak isn't raising them in my eyes. I like the way they shoot, but the way Villanova controlled the tempo in both of their previous meetings leads me to side with the Wildcats here, and I'll take Jay Wright to win the Big East yet again.