The Bracket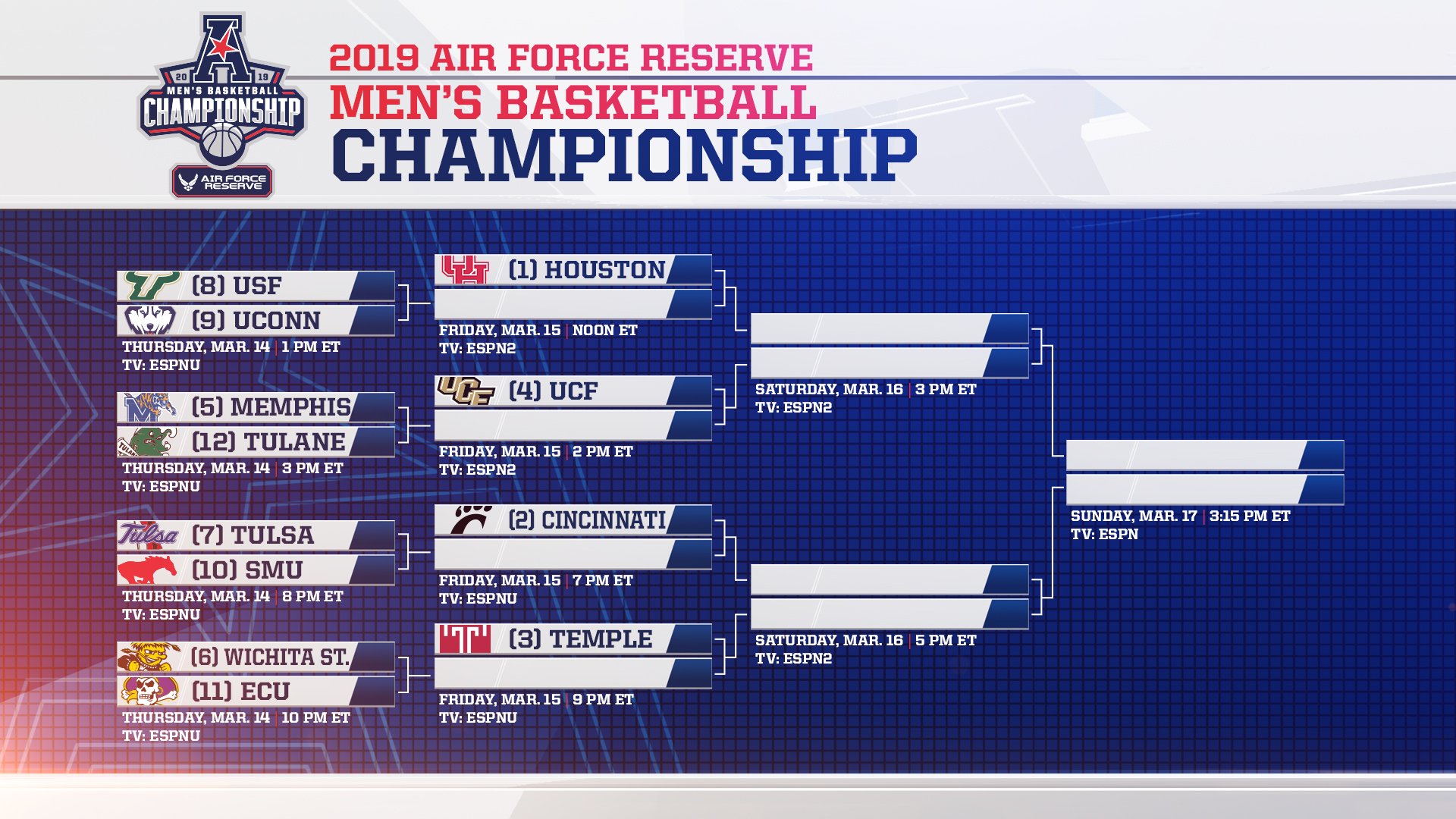 How To Watch
First Round (Thursday, March 14th)
#8 USF vs #9 UConn (1 PM ET, ESPNU)
#5 Memphis vs #12 Tulane (3:30 PM ET, ESPNU)
#7 Tulsa vs #10 SMU (8 PM ET, ESPNU)
#6 Wichita State vs #11 East Carolina (10:30 PM ET, ESPNU)
Quarterfinals (Friday, March 15th)
#1 Houston vs TBD (12 PM ET, ESPN2)
#4 UCF vs TBD (2:30 PM ET, ESPN2)
#2 Cincinnati vs TBD (7 PM ET, ESPNU)
#3 Temple vs TBD (9:30 PM ET, ESPNU)
Semifinals (Saturday, March 16th)
TBD vs TBD (3 PM ET, ESPN2)
TBD vs TBD (5:30 PM ET, ESPN2)
Championship (Sunday, March 17th)
TBD vs TBD (3:15 PM ET, ESPN)
Bracketology
*As of 3/10*
Houston – 3 Seed
Cincinnati – 7 Seed
UCF – 8 Seed
Temple – 12 Seed (Last Four In)
The Picks
The Early Round Upset
For my early round upset special I'll go to the first game of the first day and take UConn over South Florida. Neither of the two teams have inspired confidence as of late, UConn lost seven of their final nine and USF lost six of their final seven. The two teams split the season series, both close games, but in the more recent game UConn came out on top. While this is by no means a UConn team of old, I like this team's height and rebounding ability along with their way of causing chaos on the defensive end due to turnovers. Huskies to the quarterfinals.
The Darkhorse
This is probably the most obvious darkhorse pick of any conference I've done so far, it's Memphis. The AAC Tournament is played in FedEx Forum, home of the Tigers, and Memphis has one of the best home crowds in the entire country (4.0 HCA, 16th in NCAA). They've lost just two games at home this season (Cincinnati, Tennessee) and come into the tournament winners of six of their past seven. Penny Hardaway's Tigers already hold wins over UCF and Temple inside FedEx Forum this year, and I think they get a second win over UCF and advance to the semis.
Semifinals and Title Game
As tempting as it is to pick another bid thief, this is where Memphis' run dies. The Tigers only played Hoston once this year, over two months ago and on the road, but the Tigers got manhandled, 90-77, and it was a lot less close than that for most of the game. In the other semifinal, I'll take Temple to upset Cincinnati. Temple still doesn't have an NCAA bid locked up while Cincinnati does, so the Owls will be playing a hell of a lot more desperate. I like the way Fran Dunphy's team doesn't turn the ball over and their ability to force turnovers on the defensive end, give me Temple to advance to the title game to take on Houston.
Temple and Houston split the season series at one game apiece, and both of them were tight, so I would be excited for a part three should we get it. At this point, Temple will have locked up a bid, and Houston will probably be playing for the final two seed spot should things break out in their favor elsewhere. Houston just knows how to win this year, they've got one of the best defenses in the country and a great offense to go with it. The Cougars are a legit final four contender and if you don't believe in them because they "don't play anyone" talk to SEC regular-season champion LSU or the variety of great teams in the AAC that made it a power six conference this year. This Houston team is for real, Kelvin Sampson is the favorite for coach of the year, and they win the AAC Regular Season and Tournament Championships.