Aaron Hernandez was cuffed and escorted out of his home as the Patriots star TE was cut from the Pats. Hernandez will most likely plead not guilty of all charges. According to the prosecutor Hernandez shot Odin Lloyd 5 times and it will be hard for Hernandez to win the case because the night after Lloyd was killed (wether it was Hernandez or not Lloyd was murdered) Hernandez was seen on camera carrying a gun as you see in the picture below by TMZ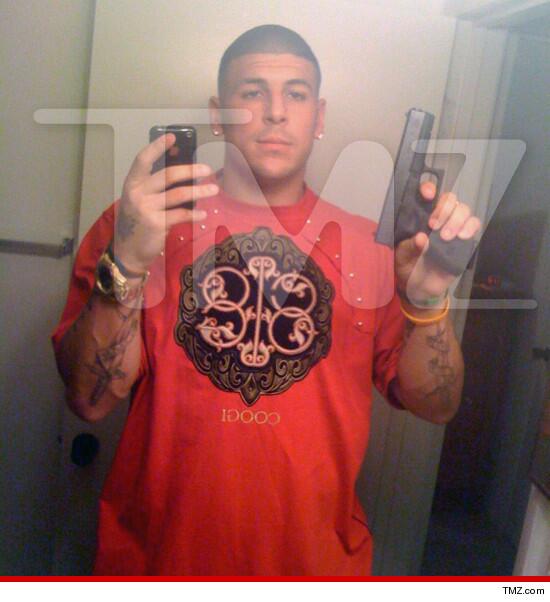 for people who want to know the handgun that Hernandez is holding is a Glock. The next piece of evidence is that in the rental car that Hernandez drove in with Lloyd and 3 other people that night there was a shell-casing of the same type of caliber that killed Lloyd. However the police searched Hernandez's home and found guns but not the murder weapon, however the did find .45 caliber ammunition which would have came from the gun that killed Lloyd. After leaving the bar on Sunday Lloyd texted his sister to ask if she had seen who he was with, when she asked who, he replied, "NFL," followed quickly by, "Just so you know." Hernandez had texted Lloyd to come to his house so Hernandez could pick him up. When Hernandez asked for bail the judge said no so  Hernandez will just be sitting in a cell until his next court day. But the thing is we could know much more but Hernandez's attorney asked for a gag which means the witnesses and lawyers cannot tell the public anything. Now back to the guns found in Hernandez's home the murder weapon is missing but the police found 2 other guns one of which is illegal in the state of Massachusetts. The illeagal weapon is a large capacity firearm ( a gun with more then 10 bullets in the magazine) which as I said is illegal in Massachusetts which is where Hernandez lives. The other gun found is a .22 handgun.
THIS JUST IN
Odin Lloyd may have known about Hernandez's role in the double murder of Daniel Abreu, 29, and Safiro Furtado, 28. Police are investigating as I  type.