Appearances by team
Alabama – 11 (6 in top 50)
Clemson – 9 (6)
Ohio State – 8 (1)
Oklahoma – 7 (2)
Utah (!) – 7 (1)
LSU – 6 (2)
Georgia – 6 (3)
Michigan – 6 (1)
Oregon – 6 (4)
Auburn – 5 (1)
Washington – 5 (1)
Minnesota (!) – 5 (0)
#219 – Texas A&M P Braden Mann
#218 – Syracuse K Andre Szmyt
#217 – Hawaii QB Cole McDonald
#216 – Auburn T Jack Driscoll
#215 – FIU CB Stantley Thomas-Oliver
#214 – Western Kentucky LB Ben Holt
#213 – USC IDL Jay Tufele
#212 – Ohio State IDL Robert Landers
#211 – Colrado State LB Tron Folsom
#210 – Buffalo LB James Patterson
#209 – Utah QB Tyler Huntley
#208 – Appalachian State WR Corey Sutton
#207 – Oklahoma C Creed Humphrey
#206 – Mississippi State CB Cameron Fantzler
#205 – Clemson S Tanner Muse
#204 – LSU QB Joe Burrow
#203 – Southern Miss WR Quez Watkins
#202 – Cincinnati RB Michael Warren
#201 – Michigan WR Tarik Black
#200 – Minnesota LB Thomas Barber
#199 – USC WR Michael Pittman
#198 – Cal S Jaylinn Hawkins
#197 – Utah S Julian Blackmon
#196 – Colorado LB Nate Landman
#195 – Washington LB Benning Potoa'e
#194 – Kansas State EDGE Reggie Walker
#193 – Tennessee LB Darrell Taylor
#192 – Syracuse EDGE Kendall Coleman
#191 – Louisiana Tech CB Amik Robertson
#190 – Minnesota T Daniel Faalele
#189 – Syracuse EDGE Alton Robinson
#188 – Oregon CB Thomas Graham Jr.
#187 – Penn State LB Micah Parsons
#186 – Eastern Michigan S Vince Calhoun
#185 – Texas State CB Anthony J Taylor
#184 – Georgia Southern EDGE Raymond Johnson III
#183 – Georgia Southern CB Monquavion Brinson
#182 – Purdue LB Markus Bailey
#181 – Georgia EDGE Malik Herring
#180 – Michigan IDL Josh Uche
#179 – Pittsburgh EDGE Rashad Weaver
#178 – Miami CB Trajan Bandy
#177 – Northwestern EDGE Joe Gaziano
#176 – Ole Miss RB Scottie Phillips
#175 – Buffalo T Kayode Awosika
#174 – Minnesota RB Mohamed Ibrahim
#173 – Memphis WR Damonte Xox
#172 – Iowa State EDGE Jaquan Bailey
#171 – Utah TE Cole Fotheringham
#170 – Vanderbilt WR Kalija Lipscomb
#169 – Maryland RB Anthony McFarland
#168 – Auburn T Prince Tega Wanohgho
#167 – Iowa T Tristan Wirfs
#166 – Washington C Nick Harris
#165 – Oklahoma TE Grant Calcaterra
#164 – Penn State EDGE Yetur Gross-Matos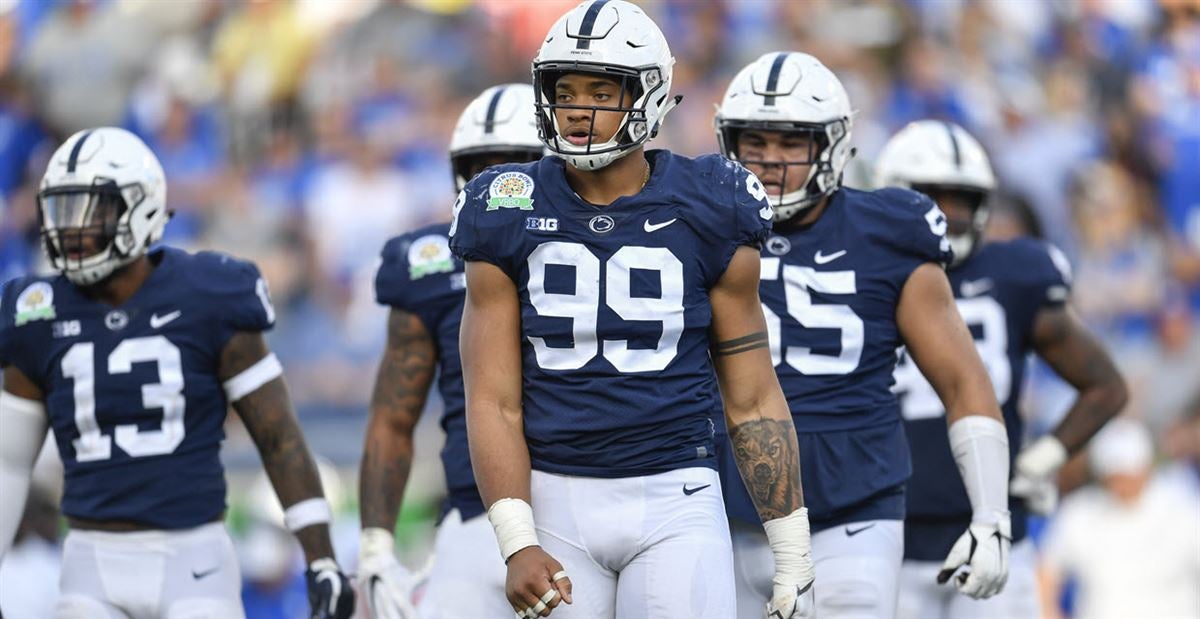 #163 – Utah IDL John Penisini
#162 – Florida LB David Reese II
#161 – Louisiana WR Ja'Marcus Bradley
#160 – Florida RB Lamical Perine
#159 – UCLA RB Joshua Kelly
#158 – Temple QB Anthony Russo
#157 – Toledo QB Eli Peters
#156 – Utah State QB Jordan Love
#155 – Arizona QB Khalil Tate
#154 – Texas A&M QB Kellen Mond
#153 – Georgia Southern QB Shai Werts
#152 – Stanford QB KJ Costello
#151 – Virginia QB Bryce Perkins
#150 – Tennessee QB Jarrett Guarantano
#149 – Texas Tech QB Alan Bowman
#148 – Ohio State QB Justin Fields
#147 – Michigan State IDL Raequan Williams
#146 – LSU LB Michael Divinity
#145 – Alabama S Xavier McKinney
#144 – Oklahoma State RB Chuba Hubbard
#143 – Nebraska WR JD Spielman
#142 – Colorado IDL Mustafa Johnson
#141 – LSU IDL Breiden Feheko
#140 – FIU S Richard Dames
#139 – Miami (OH) IDL Doug Costin
#138 – Miami LB Michael Pinckney
#137 – Charlotte S Ben Deluca
#136 – Wake Forest CB Essang Bassey
#135 – Arkansas State IDL Forrest Merrill
#134 – Wyoming LB Logan Wilson
#133 – Georgia LB Monty Rice
#132 – Auburn LB Marlon Davidson
#131 – Middle Tennessee LB Khalil Brooks
#130 – Utah CB Jaylon Johnson
#129 – Illinois RB Reggie Corbin
#128 – Ohio State IDL Davon Hamilton
#127 – Southern Miss LB Racheem Boothe
#126 – Missouri IDL Jordan Elliot
#125 – TCU T Lucas Niang
#124 – San Diego State S Tariq Thompson
#123 – Army CB Elijah Riley
#122 – Michigan CB Lavert Hill
#121 – Utah RB Zack Moss
#120 – Oregon State WR Isaiah Hodgins
#119 – Army QB Kelvin Hopkins Jr.
#118 – Virginia Tech S Reggie Floyd
#117 – Clemson IDL Nyles Pinckney
#116 – Ohio QB Nathan Rourke
#115 – Arizona RB JJ Taylor
#114 – Iowa T Alaric Jackson
#113 – Michigan G Ben Bredeson
#112 – Texas S Caden Sterns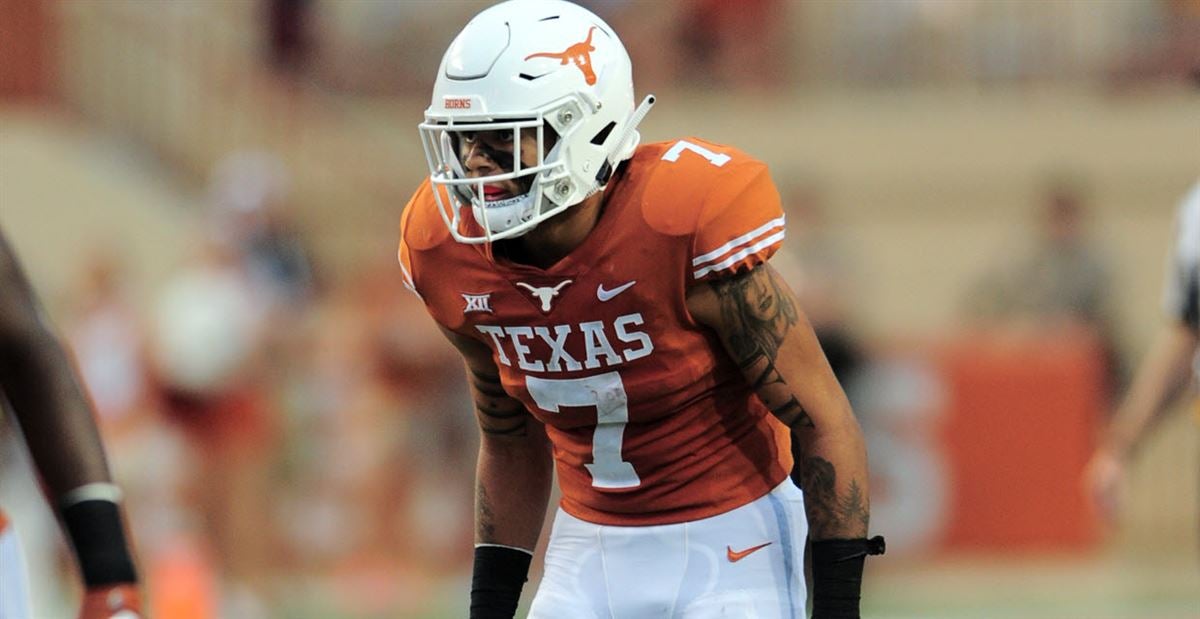 #111 – Oregon State RB Jermar Jefferson
#110 – Ohio State S Jordan Fuller
#109 – Oklahoma LB Kenneth Murray
#108 – Missouri TE Albert Okwuegbunam
#107 – Mississippi State RB Kylin Hill
#106 – LSU IDL Rashard Lawrence
#105 – Iowa State LB Marcel Spears
#104 – Ohio State WR KJ Hill
#103 – Missouri S DeMarkus Acy
#102 – Texas WR Collin Johnson
#101 – Syracuse S Andre Cisco
#100 – Florida EDGE Jabari Zuniga
#99 – Oregon LB Troy Dye
#98 – Alabama T Alex Leatherwood
#97 – Ohio State RB JK Dobbins
#96 – Alabama CB Trevon Diggs
#95 South Carolina IDL Javon Kinlaw
#94 – Boston College RB AJ Dillon
#93 – Texas State LB Bryan London II
#92 – Appalachian State S Desmond Franklin
#91 – Arkansas State EDGE William Bradley-King
#90 – Iowa S Geno Stone
#89 – Fresno State S Juju Hughes
#88 – Cal S Ashtyn Davis
#87 – Louisiana RB Trey Ragas
#86 – Arizona State RB Eno Benjamin
#85 – Boise State WR John Hightower
#84 – Akron S Alvin Davis
#83 – UAB CB Brontae Harris
#82 – San Diego State LB Kyahva Tezino
#81 – Akron LB John Lako
#80 – Ohio State LB Malik Harrison
#79 – Washington IDL Levi Onwuzurike
#78 – UAB RB Tyler Johnston III
#77 – Michigan QB Shea Patterson
#76 – Miami EDGE Jonathan Garvin
#75 – Washington CB Myles Bryant
#74 – Clemson CB AJ Terrell
#73 – Baylor QB Charlie Brewer
#72 – UCF RB Greg McCrae
#71 – Oklahoma RB Kennedy Brooks
#70 – Arizona LB Colin Schooler
#69 – TCU WR Jalen Reagor
#68 – Vanderbilt TE Jared Pinkney
#67 – Michigan State LB Joe Bachie
#66 – Texas A&M IDL Justin Madubuike
#65 – Michigan LB Khaleke Hudson
#64 – Georgia RB D'Andre Swift
#63 – Stanford T Walker Little
#62 – Miami LB Shaq Quarterman
#61 – Florida State IDL Marvin Wilson
#60 – Notre Dame EDGE Julian Okwara
#59 – Minnesota WR Tyler Johnson
#58 – Alabama EDGE Anfernee Jennings
#57 – Georgia Southern CB Kindle Vildor
#56 – Iowa State QB Brock Purdy
#55 – Alabama CB Shyheim Carter
#54 – Oklahoma QB Jalen Hurts
#53 – Auburn IDL Nick Coe
#52 – Oklahoma State WR Tylan Wallace
#51 – Minnesota EDGE Carter Coughlin
#50 – Notre Dame S Alohi Gilman
Gilman, a Navy transfer, showed out last year as a junior with his aggressive play style and superb coverage ability. If that was his performance in year one against P5 competition, I'm excited to see what he can do in year two.
#49 – Vanderbilt RB Ke'Shawn Vaughn
Since he plays for Vanderbilt you probably didn't notice it, but Vaughn racked up 1,244 yards and 12 touchdowns in his first season with the 'dores. The Illinois transfer was efficient too, boasting an incredible 7.9 yard per carry average on over 150 touches, making him one of the most underrated skill position players in the county coming into 2019.
#48 – Georgia QB Jake Fromm
Jake Fromm hasn't gotten the job done yet, but boy has he been close to a pair of national championships. Fromm might not be incredibly flashy, but he is efficient. The junior connected on 67.4 percent of his throws and threw five times as many touchdowns as interceptions last year, even with the brutal SEC schedule. I think he'll lead the Dawgs to another title contending year in 2019.
#47 – Florida CB CJ Henderson
The most recent star to come out of the so-called "DBU" is corner CJ Henderson. Henderson's coverage stats might not be too crazy (two INTs, five PDs last year) but that's mostly because opposing quarterbacks never wanted to throw near him. I'd expect that to continue this year.
#46 – Northwestern LB Paddy Fisher
The leader of the Northwestern defense, Fisher has racked up 227 tackles in his first two seasons in Evanston and earned significant NFL draft hype. The question is, can he help carry the Wildcats to another good year?
#45 – Georgia S JR Reed
Reed was one of the best coverage safeties in the country last year and gave SEC quarterbacks a fit all season long in a year that included a pick off of Tua Tagovailoa in the SEC title game. Reed's NFL buzz has been bubbling for a while, and this is the year I think it explodes.
#44 – Alabama LB Dylan Moses
Moses earned All-American honors as a sophomore last year, racking up ten TFL and 3.5 sacks along with 86 total tackles,. I expect him to go to the NFL after this year, but not before he takes one more shot at a national championship.
#43 – Clemson EDGE Xavier Thomas
Even with four NFL draft linemen in front of him (three of which were picked in the top-20), Thomas earned significant playing time as a true freshman and was incredibly efficient with the time given to him, racking up 8.5 TFL and 3.5 sacks as a backup. I expect those numbers to skyrocket even further as he takes on a bigger role.
#42 – Boise State EDGE Curtis Weaver
Despite only playing on the blue turf for two years so far, Weaver is already sixth on Boise State's all-time sack leader list. The Long Beach native has totaled an incredible 28 TFL and 20.5 sacks over the past two seasons, and I only see bright things in his future.
#41 – Wisconsin T Cole Van Lanen
Wisconsin seems to constantly produce some of the best linemen in the country, and tackle Cole Van Lanen is no different. Van Lanen finished 2018 with a 90.8 overall grade from PFF, #1 of all returning tackles, and I expect another great year for him protecting whoever starts at QB for the Badgers.
#40 – Michigan EDGE Mike Danna
Danna was one of the most productive pass rushers of 2018, racking up 14 TFL, 8.5 sacks, and over 50 total pressures as a junior at Central Michigan. Danna transferred to Michigan, so he's playing with the big boys now, but early word out of camp says that the tougher competition hasn't phased him one bit.
#39 – Washington T Trey Adams
The monster of a human that is Trey Adams dealt with plenty of injuries last year as part of a Washington O-Line group that struggled with those, but if he can get back to 2017 form, he has the potential to be the best tackle in college football.
#38 – Florida State RB Cam Akers
The extremely highly touted Akers has had a solid first two years, but he's been far from what most, including me, were expecting. This is probably more of a projection ranking than anything, but I've seen the talent that this guy has and I can't help but feel like a breakout year is coming.
#37 – Alabama RB Najee Harris
After being a part of the best running back group in the country last season, Harris is now the undisputed number one, and after averaging 6.7 yards per carry as a freshman, I think he has a good chance at being the best back in the country in 2018.
#36 – Utah IDL Bradlee Anae
Perhaps the leader of the excellent Utah defensive line group, Anae has racked up 14.5 sacks and 26 TFL in two seasons with the Utes. After being told he would be a lock to go in the first round, Anae still decided to come back to college and torment Pac-12 quarterbacks for one more year.
#35 – UCF S Richie Grant
Grant has to be up there for the best defender on a G5 team, which is even more impressive considering the UCF defense around him is largely below average. Grant racked up 108 tackles last year (including 68 solo) and picked off six passes, just one off of the most in the country.
#34 – TCU CB Jeff Gladney
In a conference not known for defense, Jeff Gladney stands bright after a 13 PBU year in 2018 where he also picked off two passes. According to Pro Football Focus, when throwing into Gladney's coverage, opposing quarterbacks had a quarterback rating of just 45.6. Gladney is one of the most underrated guys in the country, but I have a feeling you'll be hearing more about him come draf season.
#33 – Oregon G Shane Lemieux
Lemiueux is PFF's highest rated returning guard, and I'd expect him to contend for All-Americans honors in 2019 as part of the incredible Oregon offensive line group that rivals any other in the country.
#32 – Oklahoma RB Trey Sermon
Trey Sermon is one of my favorite players to watch in college football. Sermon has racked up 1,691 yards and 18 touchdowns on a 5.9 per-carry average in his two years in Norman, and I expect the electric rusher to have another great year leading the Oklahoma offense.
#31 – Cal LB Evan Weaver
Its ok to admit you didn't watch a lot of Cal football last year, but just know that Evan Weaver was incredible. 155 tackles, 8.5 TFL, 4.5 sacks, two INTs, six PBUs. That is one of the best stat lines in the nation, and back for his senior season, I expect Weaver to contend for All-American honors in 2019.
#30 – Clemson LB Isaiah Simmons
Simmons was an all around stat stuffer for Clemson last year with 88 tackles, nine TFL, two sacks, and six PBUs. The difference between Simmons and other all-around linebacker is the degree to which Simmons can hang with legit wide receivers in coverage, and Simmons' 6'4″ frame mixed with his freaky athleticism makes him a nightmare for so-called "matchup nightmares"
#29 – Houston QB D'Eriq King
If you didn't watch a lot of D'Eriq King last year, you're consuming college football wrong. The Houston QB was involved in high powered shootouts seemingly every week and racked up nearly 3,000 yards passing on 8.6 yards per attempt and 36 touchdowns to go with an impressive rushing statline as well. King is a step above what AAC defenses are used to seeing, and I think it'll make for many more shootouts in 2019.
#28 – Auburn IDL Derrick Brown
Brown is a clear #1 or # 2 when you talk about the best interior d-linemen in the country. His contributions in run defense can't fully be given justice by his statline over the past two seasons (20 TFL, 7.5 sacks) but if Auburn is going to make a run this year, it will largely be on the back of Brown as the plug of the defense.
#27 – Texas QB Sam Ehlinger
I don't know why exactly, but Sam Ehlinger still feels incredibly underrated. Ehlinger took a huge step forward in 2018 with 3,292 yards and 25 touchdowns on 7.7 yards per attempt but doesn't quite get the respect I think he deserves as not only a game manager but also a game changer. I will admit I don't fully get the Heisman hype, but he will certainly be the reason for it if Texas ends up making a national title push..
#26 – Oregon T Calvin Throckmorton
The brilliantly-named Throckmorton has been the anchor of the Oregon line for a couple years now, and with it expected to be the best group in the country this season, I wouldn't be surprised if he pops up on some All-American lists come January.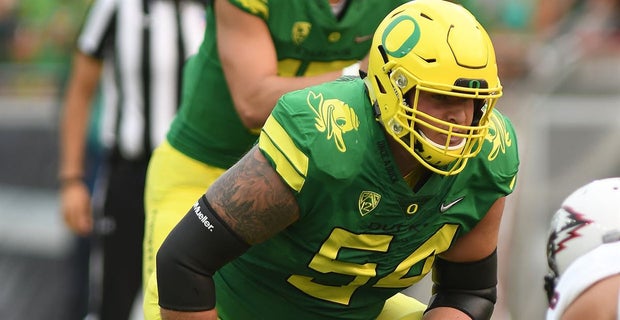 #25 – Oklahoma WR CeeDee Lamb
Marquise Brown was the star of the show for Oklahoma last year, but CeeDee Lamb was excellent as well, racking up 1,965 yards and 18 touchdowns on 17.7 YPC the past two years with two different quarterbacks. We'll see if he can keep it up with a third new QB, but I wouldn't doubt him.
#24 – LSU CB Kristian Fulton
Kristian Fulton burst onto the scene last year with his excellent coverage and heat-seeking ability that made many rate him out better than star corner Greedy Williams last year, and after dealing with injuries in 2018, I think he could be on track for an even better 2019.
#23 – Stanford CB Paulson Adebo
The Pac-12 feels like an unappreciated conference a lot of the time, and that's a shame, because guys like Adebo had incredible years last season. Adebo racked up 17 PBUs and four picks along with five TFL, and I think he could climb even higher on the year end version of this list.
#22 – North Texas QB Mason Fine
The 2017 and 2018 CUSA Offensive Player of the Year is going for three in a row in 2019 after combining for 58 touchdowns and over 7,800 yards the past two years. Fine improved tremendously in 2019, cutting his interception number in a third, and I expect another awesome year from him this season.
#21 – Utah State LB David Woodward
Woodward was what we call a "problem" last year for opposing coordinators. Excellent in coverage, excellent against the run, a great tackler, big, fast, and smart, Woodward can do it all, and if you ever watch a Utah State game this year, you won't have to look for Woodward, he'll make you pay attention, as his incredible 2018 statline (134 tackles, 12.5 TFL, five sacks) tells you.
#20 – Alabama WR Jaylen Waddle
Jaylen Waddle was one of the most exciting guys in the nation last season, averaging 18.8 yards per catch and grabbing seven touchdowns as a true freshman. With roster turnover and added experience, I expect even more playing time, and with that, I think Waddle shows out and puts up even better numbers in 2019.
#19 – Clemson WR Tee Higgins
Tee Higgins is the ultimate all around guy, he's a deep threat that can force missed tackles and doesn't drop the ball, and after 936 yards and 12 touchdowns on 15.9 yards per catch as a sophomore, I'm expecting his and Trevor Lawrence's connection to grow, and for Higgins to be one of the top receivers in the country in 2019.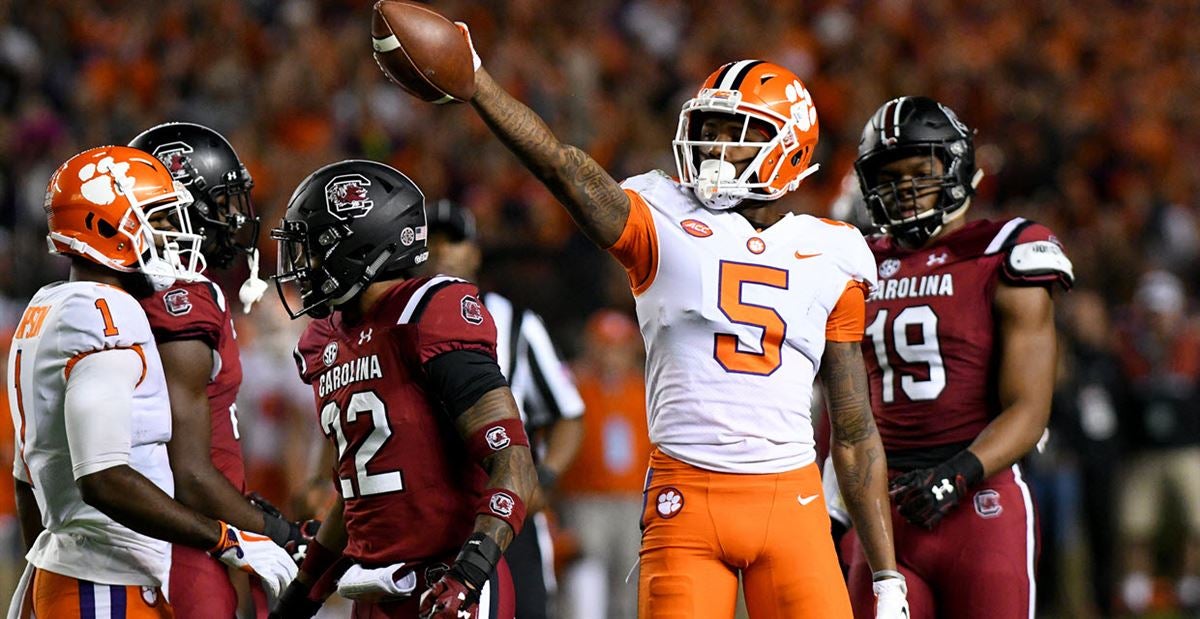 #18 – Georgia T Andrew Thomas
Allowing just four sacks in his career facing up against SEC talent, Thomas has been incredibly consistent, and after switching from RT to LT last year, I think he'll be more settled into the role in 2019 and fully capitalize on his talent.
#17 – Oregon T Penei Sewell
Before his injury last year, Penei Sewell was, according to Pro Football Focus "well on his way to perhaps one of the best true freshman campaigns for an offensive tackle that we've ever seen." With an extra year of experience and hopefully a healthy ankle, I think he leads the nation's top offensive line and will challenge to be the best lineman in the nation in 2019.
#16 – Alabama IDL Raekwon Davis
I am admittedly very high on Raekwon Davis. With 15.5 TFL and ten sacks over the past two years, Davis has shown flashes of being an awesome player, and I expect him to put all the pieces together for his senior year. The talent is certainly there, and while it can be hard to stand out on defenses as loaded as Alabama's, if anyone can do it it'll be him.
#15 – Clemson RB Travis Etienne
Etienne was overshadowed by Trevor Lawrence last year, but with 1,658 yards, 24 touchdowns, and 8.1 (!!!) yards per carry in 2018, Etienne had an absurd year. His 7.8 career yards per carry is #3 on the all-time NCAA list, and I feel as if even ranking him "only" in the top-15 feels low. With defenses given more time to study Lawrence, I think Etienne could see increased touches in 2019, which could only help his top-line numbers.
#14 – Michigan State EDGE Kenny Willekes
I think most people have come around on Kenny Willekes, but this is a guy that was a zero-star prospect that has now made his way onto NFL draft boards, an absolutely incredible story. After 20.5 TFL (!) and eight sacks last year, I'm expecting another incredible year from the expert edge rusher.
#13 – LSU S Grant Delpit
Grant Delpit is tremendous in run defense, pass-rush, and coverage. The #1 pass-rushing safety in the country last year (9.5 TFL, five sacks), he also brought in five interceptions and nine PBUs. That was all as a sophomore. Delpit as an upperclassman is a scary site for opposing offenses, but luckily I think he'll be in the NFL soon enough.
#12 – Oregon QB Justin Herbert
A guy that had NFL draft scouts salivating but decided to go back to school, Justin Herbert is my #3 QB coming into the year. Herbert averaged 7.8 yards per attempt in 2018, down from 9.6 the year before, and his completion percentage took a hit as well, from 68 all the way down to 59. If he wants to hold this spot on the year end list, he's going to have to play a lot more like 2017 Justin Herbert than 2018, but either way Hebrert is an incredibly fun player to watch that has exhibited extraordinary potential the past couple years.
#11 – Colorado WR Laviska Shenault Jr.
Laviska Shenault got hit with an injury last year, but he still managed over 1,000 yards along with six touchdowns in just nine games as a sophomore. Shenault is the key to the Colorado offense, especially great at making plays after the catch, and is a darkhorse guy that won't win the Heisman because of the team he plays for but could be a finalist.
#10 – Virginia CB Bryce Hall
Virginia has a bit of a history of producing top-level disruptive defensive backs but Bryce Hall is among the best to come out of the program. The commonwealth native racked up 21 PBUs last season, the most in the country. A guy that feels like a near-lock for the All-American team and another productive year, this is someone to watch, although I have a feeling opposing QBs will be more afraid to throw his way in 2019.
#9 – Wisconsin C Tyler Biadasz
My highest rated offensive lineman comes from (who could've guessed it?) Wisconsin! Biadasz has been unrivaled at the center position the past two years, coming in as a true freshman an instantly putting in an incredible performance. Biadasz averages less than one pressure allowed per game, and if he keeps that up, it'll be hard to keep him from climbing even higher on this list come year-end.
#8 – Iowa EDGE AJ Epenesa
AJ Epenesa was great in 2017, but in 2018 he was a guy I could hardly take my eye off of when watching Hawkeye games. The stats don't tell the whole story because of the wide rotation Iowa plays on the defensive line as he "only" has 14 sacks over the past two years, but when adjusted for snaps played he's up near the top. Epenesa makes pass-rushing look like an art, and I knew he had to be in my top ten when I came up with the idea of putting this list together.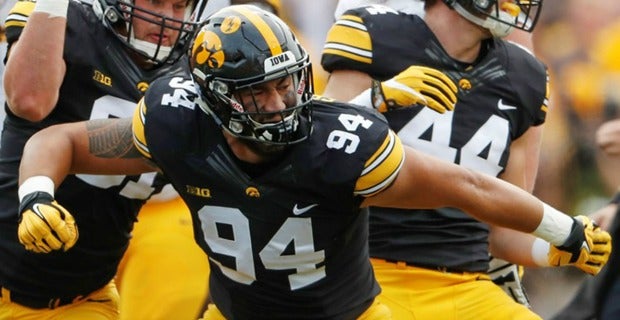 #7 – Purdue WR Rondale Moore
Rondale Moore burst onto the scene against Northwestern in one of the first games of last year's college football season. Moore is incredibly fast and just absolutely absurdly strong for his size. One of the most prolific playmakers in the country last year, Moore dazzled after the catch, and rarely dropped passes that came his way. He will contend for what will be a crowded Biletnikoff Award race.
#6 – Clemson WR Justyn Ross
As a true freshman, Justyn Ross put in one of the most spectacular years I've ever seen for a guy in his first year on campus, averaging nearly 22 (!) yards per reception and bringing in 1,000 yards and nine touchdowns. If that is what he did as a true freshman, I'm excited to see what he'll do this year with a more experienced QB as well.
#5 – Wisconsin RB Jonathan Taylor
Wisconsin football gets a reputation for being boring, but Jonathan Taylor begs to differ. Taylor has racked up 4,171 yards and 29 touchdowns in his first two years in Madison, and averaged 7.1 yards per carry in 2019, enough to win the Doak Walker award. After leading the Big Ten in yards from scrimmage back to back years, let's see if he can make it three in a row in 2019, and maybe even contend for a Heisman Trophy.
#4 – Ohio State EDGE Chase Young
When Joey Bosa went down early last season, it gave the rest of the uber-talented Ohio State defensive line a chance to shine, and shine they did, led by brilliant edge rusher Chase Young, who is an NFL scout's dream with his incredible pass rush move versatility, and perfect mix of speed and power. Young brought in 14.5 TFL and 9.5 sacks as a sophomore. He does that again, and I think he has a great shot at being the first non-QB off the board in the 2020 NFL Draft should he decide to go that way.
#3 – Alabama WR Jerry Jeudy
I'm not sure how, maybe being in his quarterback's shadow, but Jerry Jeudy really flew under the radar in 2019 despite having an absurd year with 1,315 yards and 14 touchdowns on 19.3 yards per catch en route to a Biletnikoff Award trophy. I expect Jeudy to have another efficient year in 2020 with Tua at the helm again, and to be a top ten pick in the draft next April, I just hope more people pay attention and give him the respect he deserves as a no questions asked top five player in the country.
#2 – Clemson QB Trevor Lawrence
Trevor Lawrence's true freshman year was one of the best I've ever seen for a quarterback. Lawrence has perfect control over where he wants the ball to go and is unphased by any pressure coming his way in pass rush. Despite not starting at the beginning of the year, Lawrence had 3,280 yards and 30 touchdowns on a 65% completion rate and 8.3 yards per attempt. Geez. This guy is a Heisman contender just one year after being the College Football Playoff Offensive MVP, and I couldn't kill you for putting him first on this list.
#1 – Alabama QB Tua Tagovailoa
Trevor Lawrence has gotten a lot of the hype in similar, smaller lists to this over the offseason, and for good reason, he's an incredible player, but when I was putting this list together, I didn't for a second consider putting anyone other than Tua at the top. In his first year as a starter, Tagovailoa racked up 3,966 yards and 43 touchdowns on 11.2 yards per attempt and a 69% completion rate, and he did it against an SEC schedule. Tua is an incredible talent with a terrific supporting cast, and he's my pick not only to be the best player in college football, but also to win the Heisman trophy, as those can often be two different players.