The Bracket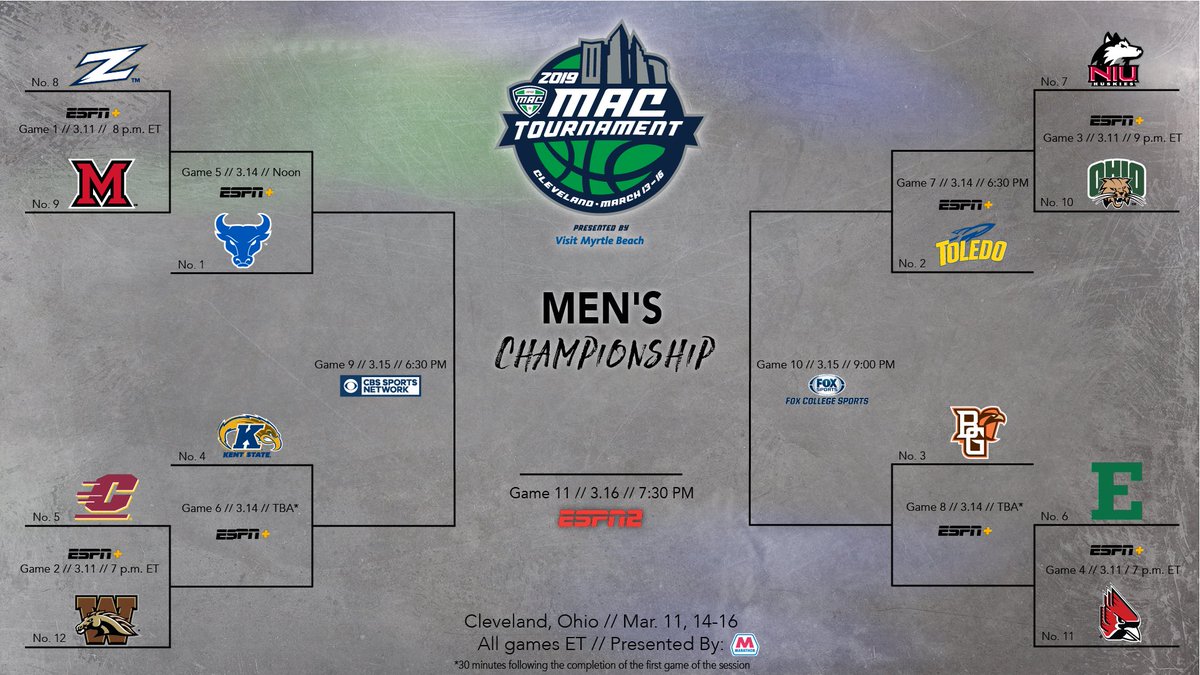 How To Watch
First Round (Monday, March 11th)

#12 Western Michigan @ #5 Central Michigan (7 PM ET, ESPN+)
#11 Ball State @ #6 Eastern Michigan (7 PM ET, ESPN+)
#9 Miami (Ohio) @ #8 Akron (8 PM ET, ESPN+)
#10 Ohio @ #7 Northern Illinois (9 PM ET, ESPN+)
Quarterfinals (Thursday, Match 14th)
TBD vs #1 Buffalo (12 PM ET, ESPN+)
TBD vs #4 Kent State (2:30 PM ET, ESPN+)
TBD vs #2 Toledo (6:30 PM ET, ESPN+)
TBD vs #3 Bowling Green (9 PM ET, ESPN+)
Semifinals (Friday, March 15th)
TBD vs TBD (6:30 PM ET, CBSSN)
TBD vs TBD (9 PM ET, Fox College Sports Atlantic)
Championship (Saturday, March 16th)
TBD vs TBD (7:30 PM ET, ESPN2)
Bracketology
*As of 3/8*
Buffalo – 6 seed
Toledo – Next Four Out
The Picks
*Monday games hosted by higher seed
The Early Round Upset
With half of the conference between 6-12 and 8-10 in MAC play, that first night of games would normally be ripe for upsets, but the conference decided to let the higher seeded teams host the first round of games, which obviously make things harder for underdogs. I'd watch Ball State-Eastern Michigan Monday night, I think I'd pick Ball State if it was a neutral, but my early round upset comes in the 10-7 game. Ohio is a really talented team that has fallen short of expectations this year. They were the preseason #3 in the MAC according to KenPom but finished the year 10th in the conference standings. The Bobcats come into the conference tournament having won three of their past five -the only losses coming to the #1 and #3 seeds by a combined eight point-  including a 73-49 win @ an underrated Akron teamn. NIU swept the season series, but their last meeting was over a month ago and this is a better Bobcat team right now. Neither of these teams are great, they've combined for six wins in the months of both February and March, but I'll take this battle-tested Ohio team, which has faced one of the toughest schedules in the country among mid-major teams.
The Darkhorse
If I'm being honest, I couldn't really see any team outside of Buffalo winning the title here. That's not to say Buffalo is some Gonzaga level unbeatable conference champion, they lost two games in conference play and seven of their 16 wins were by single digits, I just don't have enough confidence in anyone but the Bulls to win. Except for maybe Toledo. The Rockets are 54th in KenPom, a borderline bubble team, and hot, winners of five straight and ten of their past 12. They shoot the ball well from deep and hit their free throws, they spread the ball around and they play tight defense, especially on the perimeter. This is a dangerous team, and if they are able to steal the autobid, watch out for them in March.
Semifinals and Title Game
I've got two fun semifinals for Friday, Buffalo-Kent State and Toledo-Bowling Green, but I will go chalk and pick the favorites in both. Neither Kent State nor Bowling Green showed much in their previous meetings with their respective opponents to make me believe they can avenge those losses, therefore I'll go with the boring Buffalo-Toledo final. Buffalo dominated the first game 110-80, but Toledo jumped out to a 17-4 lead in the return game before ultimately blowing it. The Rockets have the talent to pull off the upset here, but I like the tempo of the Bulls in the tournament environment. They shoot the ball well, crash the boards, and don't turn the ball over, and I think they will be your MAC Champions.