The Bracket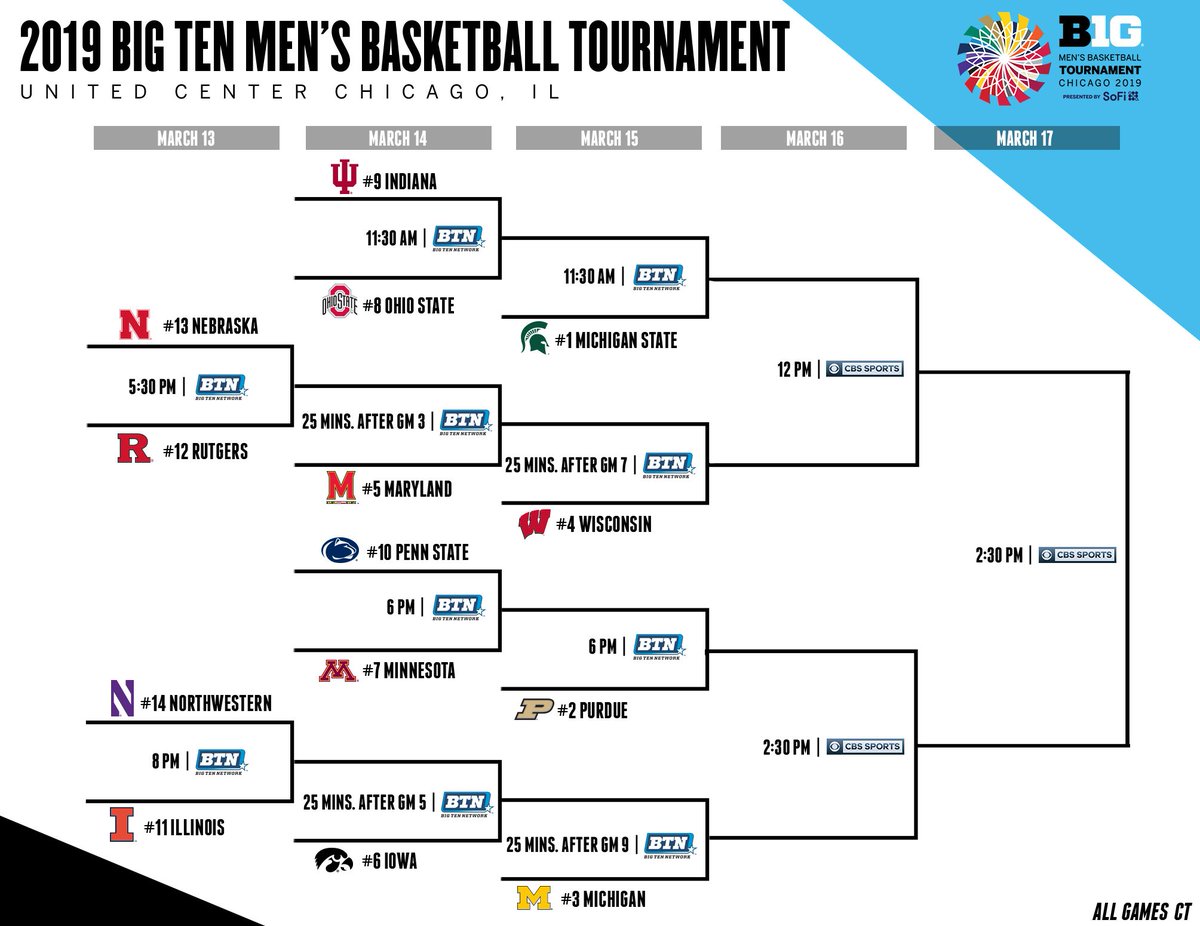 How To Watch
First Round (Wednesday, March 13th)
#12 Rutgers vs #13 Nebraska (6:30 PM ET, BTN)
#11 Illinois vs #14 Northwestern (9 PM ET, BTN)
Second Round (Thursday, March 14th)
#8 Ohio State vs #9 Indiana (12:30 PM ET, BTN)
#5 Maryland vs TBD (3 PM ET, BTN)
#7 Minnesota vs #10 Penn State (7 PM ET, BTN)
#6 Iowa vs TBD (9:30 PM ET, BTN)
Quarterfinals (Friday, March 15th)
#1 Michigan State vs TBD (12:30 PM ET, BTN)
#4 Wisconsin vs TBD (3 PM ET, BTN)
#2 Purdue vs TBD (7 PM ET, BTN)
#3 Michigan vs TBD (9:30 PM ET, BTN)
Semifinals (Saturday, March 16th)
TBD vs TBD (1 PM ET, CBS)
TBD vs TBD (3:30 PM ET, CBS)
Championship (Sunday, March 17th)
TBD vs TBD (3:30 PM ET, CBS)
Bracketology
*As of 3/10*
Michigan State – 2 Seed
Michigan – 2 Seed
Purdue – 3 Seed
Wisconsin – 4 Seed
Maryland  5 Seed
Iowa – 8 Seed
Minnesota – 10 Seed
Ohio State – 11 Seed (Last Four Byes)
Indiana – First Four Out
The Picks
The Early Round Upset
The Big Ten is the #1 conference in the country this year according to KenPom, this group of teams is so good from top to bottom. The lowest ranked team in the conference (Illinois) in 78th in KenPom. For comparison's sake, here is the lowest ranked team in the other power seven conferences.
Big East – DePaul (102nd)
Big 12 – West Virginia (106th)
SEC – Vanderbilt (150th)
ACC – Wake Forest (164th)
Pac-12 – California (247th)
American – Tulane (293rd)
The depth of the Big Ten is incredible, it is the only conference to have every team ranked in the top 100, and every team is in the top 80, AND they do it with 14 teams. That parity causes a lot of potential for upsets in the early rounds, and I've got both lower seeds winning on day one, but for my featured early round upset I'll showcase Penn State over Minnesota on day two. The Nittany Lions are probably one of the best 14-17 teams of all time (39th in KenPom!!!), and while it is a HUGE longshot, I might put a few bucks on Penn State to win the Big Ten title at 25/1. It speaks to the talent of this team that Vegas actually gives them the sixth highest odds in the league to win the title. Penn State finished the season winners of five of their final six, with wins over both Michigan and Maryland during the month of February. Minnesota has been quite "meh" this year, and are just 3-7 in the months of February and March. These teams only played once this year, a one point Minnesota win in Minneapolis, but that was all the way back in January, Penn State is much better now, I'll take the Nittany Lions.
The Darkhorse
I'm not exactly sure why, but I've been higher on Maryland than most this entire year. The Terps are battle-tested, having faced a top 20 schedule in the country. They are a decent shooting team, an awesome rebounding team and an even better defensive team. The Terps rank 20th in the country in adjustive defensive efficiency rate, and I like their height in this tournament setting. Maryland split the season series with Wisconsin in their two meetings this year, each winning at home, and I like Maryland to win the season series in a heated quarterfinal. Maryland is one of the few teams that can deal with Wisconsin's height, and I think they move on to the semis to take on Michigan State.
Semifinals and Title Game
I've got Maryland-Michigan State and Michigan-Purdue in the semis, as much as I wanted to put Penn State through. I probably would have if they were facing Michigan, although I guess that kind of spoils my pick on the second game. I just haven't been in love with Michigan all year, even back when they were the second-to-last undefeated team in the country. Their defense is great, but they really struggle when they fall behind, kind of like Virginia in the years when they aren't reliable from three. These teams only played once this year, but it was all the way back on December 1st. Purdue got murdered in Ann Arbor, but I think Purdue is a lot better now. Michigan has struggled away from home throughout Big Ten play (1-4 @ KenPom top 41 teams in conference play) and I've got Purdue advancing through, and they'll be facing Michigan State. The Spartans are 7-1 in their last eight and took care of Maryland with ease when they played them a couple of months ago. I really like the way Michigan State shares the basketball, and I like their deep bench in a tournament environment, so I'll advance them through to the finals.
Michigan State vs Purdue will be an awesome game on Sunday. Nick Ward will be back after missing the final five games of the regular season. Ward is great on the glass, a force on the defensive end, and a great high percentage shooter. I've loved Purdue all year, and even back when they were 9-6, I still always thought they were a top 25 team, and ever since they avenged their earlier loss and beat Michigan State, I've thought of them at a top ten level. Since that first Michigan State game on 1/8, the Boilermakers are 14-2, the only losses @ Maryland and @ Minnesota, although they have just two wins over KenPom top 30 teams in that time frame. I'm really torn on this game, and you could essentially flip a coin, but I'll side with the more talented, better shooting, and deeper team in Michigan State.