THE TAPE (9/9/2017 @ North Carolina)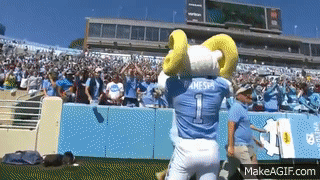 Ok, here we go with the first prospect breakdown of the year, and for this, I've selected Lamar Jackson's game tape @ North Carolina. North Carolina's defense is ranked 89th in defensive S&P+, but I specifically remembered this game as an up and down game for Jackson where he made some good throws, as well as some bad, and boy, was that an understatement.
Early on in the First Quarter, we see Jackson bomb one about 40 yards down the field, his throw is off, and while he gets bailed out by a pass interference call, you would like to see him lead the receiver a little more. You may also notice that when he throws, his feet are at or are closer than shoulder with the part, you would like to see a wider base on those throws.
The above highlight is probably the worst play of Jackson's collegiate career, and that is not an understatement. Only up three inside the ten-yard line, you need to take the sack and get out of there with three points, instead, Jackson throws up a ball as he is being dragged down, and almost throws a pick.
On Jackson's very next throw, he makes up for that last one. Slipping the pass rush on the play action, and putting the ball perfectly in the receiver's hands for a 75-yard touchdown.
This next play goes into the decision making of Jackson. Either he meant to throw away the ball (on a 4th down) or he just wildly missed his receiver. You can even see head coach Bobby Petrino looking confused.
Another poor decision here by Jackson, he throws into triple coverage when he has his running back wide open on the check down (look at the 30-yard line marker if you don't see the back at first).
Just like earlier, Jackson follows up a bad decision with an incredible play. He somehow slips out of the pocket, is chased by half the defense, and still makes the first down. You may notice while scrambling, Jackson keeps the ball up in a throwing position, which causes the linebackers to stay in coverage instead of pursuing him.
Another incredible run here, as Jackson goes almost untouched from midfield to the endzone. That breakaway speed, once he recovers from the slight stumble, is beyond impressive.
Right here we see Jackson's accuracy on display. He sees the linebacker sinking and throws a dot to where only his receiver can catch it. When he wants to be, Jackson actually is a very underrated pocket passer.
This is why I say "when he wants to" Jackson is a good passer. He sees the receiver open, and kind of gets lazy and overthrows a wide open first down on the post route.
I figured I would include one of these plays to show off Jackson's quick release. Much of Louisville's offense is made up of slants, and Lamar's quick motion allows him to hit the receiver before the UNC linebackers are able to come up on the ball.
Another playmaking run by Jackson here. He runs the draw, looks like he is about to be stopped for a loss, and then bounces outside to score another touchdown.
While the throw is slightly behind the receiver here, Jackson reads the defense very well on this play. He sees the safety come down, and right when the receiver makes his move, Jackson releases so that he is not able to get back into position.
The final highlight of the game, and its another Jackson scramble for the touchdown. He breaks a few tackles on this play, and while North Carolina doesn't have a great defense, that is still very impressive for a guy his size to do.
 THE GRADES
Mobility – 10
Arm – 9
Accuracy – 7
Decisions – 8
Footwork – 5
Technique – 8
I guess I'm not as high on Jackson as some are. I've seen him as high as #1 in some mock drafts, but that footwork grade drags his overall grade down a lot for me. If you notice in the very first highlight, as well as many of the other "bad throws" that Jackson makes, his stance is way too narrow. That can be fixed, he's only 20 years old, and has tremendous upside. However, for now, he misses way too many wide open throws to be considered a top ten talent. He's got the arm, he has a Cam Newton esque throwing style with a quick release, and obviously, he is mobile, but he is also wildly inconsistent as a passer, and while he has the highest upside of any quarterback in this draft, he also has the lowest downside. The age of Jackson helps his grade, having some time to develop his natural throwing stance will help his accuracy, and his tendency to not take big hits while scrambling is a plus that sometimes goes unnoticed.
OVERALL GRADE: 78/100 (Mid 1st Round Talent)
*Rating Explanation* Where I think he should go, not where he will go
90+ Superstar
80+ Elite Player
75+ First Round Talent
70+ Second Round Talent
65+ Third Round Talent
50+ Third Day Talent (Round 4-7)