10:05 – This is goodbye
These past two weeks covering the Virginia Gubernatorial primaries last week, and then tonight, have been a blast. The benchmark system I use to project races has worked out wonderfully, and I will continue tweaking it over the coming days as we get 100% reporting out of GA-06. The next time I will see you all in a live political setting will be in 4 and a half months for Election Day 2017. We will be covering the New Jersey and Virginia Gov and Lt. Gov races, as well as key general assembly races in Virginia and New Jersey, as well as a US House special election in Utah, and some key elections that could determine who controls the Washington State Senate. Make sure you come back for sports coverage during this political off-season, as we will have the CSD College Football Preview Online Magazine coming out in about two months, and plenty of other things like MLB Playoffs preview, NFL team previews, NBA Draft coverage, and much more.
When did everybody call the race?
9:53 – We called the race
9:53 – Nate Cohn calls the race
9:55 – Nate Wasserman calls the race
9:56 – DecisionDeskHQ calls the race
10:00 – Nate Silver calls the race
Unknown – AP Calls the race
9:53 – KAREN HANDEL (R) DEFEATS JON OSSOFF (D) IN GA-06 SPECIAL ELECTION
The early mail-in is looking bad for Ossoff, it's over.
If you are just tuning in, at 9PM we called SC-05 for Ralph Norman (R).
9:50 – DeKalb mail in is in
Ossoff is up by less than 20% in DEKALB where he should be up huge. This race is pretty much over.
DeKalb County just reported absentee-by-mail (ABM) votes. #ga06 https://t.co/pirrro8jWk (PDF) pic.twitter.com/rbhRcVGHCi

— Greg Giroux (@greggiroux) June 21, 2017
9:48 – Here comes the mail in
If Ossoff doesn't win this by over 50%, he's done. He might need to win it by 60 to have a real shot at winning this. We should get it in shortly.
There are 27,138 #GA06 accepted mail ballots as of yesterday

— Michael McDonald (@ElectProject) June 21, 2017
9:44 – About Politico…
The Politico live tracker that was mentioned earlier was glitched on their end, while it said Ossoff was running 2 1/2 points better than in April, it meant the opposite, Dems were probably counting a lot on that last burst of Ossoff votes from each precinct Politico was projecting, but if those don't exist, it might be enough to call race for Handel right now.
9:32 – The more we wait. The more GA-06 looks to stay red.
Handel is up about 13,000 votes district-wide, and the more we wait, the more that grows, I start to doubt mail-ins can make it up, he better hope he can make it up in DeKalb, but it seems we will get that answer soon.
Absentee mail-ins are coming in for DeKalb shortly, @Nate_Cohn

— Decision Desk HQ (@DecisionDeskHQ) June 21, 2017

9:26 – An update on SC-05
We called this race for the Republican (Ralph Norman) at 9 o'clock, but the fact that Parnell continues to close the gap in what should be a double-digit GOP seat is impressive.
Wow, the last few York precincts have been particularly strong for Parnell (D). He could end up keeping Norman (R) margin under 4%. #SC05

— Dave Wasserman (@Redistrict) June 21, 2017
9:24 – A solid reminder
Even if Ossoff loses, it will be by < 2%, that along with Parnell outperforming Clinton by like 13%, should be taken as good signs for Dems, even in defeat. WE HAVE STILL NOT CALLED ANYTHING.
One thing to remember: President Donald Trump literally picked where these special elections are taking place.

— Kevin Robillard (@PoliticoKevin) June 21, 2017
9:21 – Let's take another look at those benchmarks
I said earlier the benchmarks for an Ossoff win would be
Fulton – about 50%
DeKalb – over 60%
Cobb – 40-45 depending on turnout
With a little under 2/3rds of votes counted
Fulton – 47.5%
DeKalb – 59%
Cobb – 40%
Too early to call it because of no mail-in vote yet, but it's not looking good for Ossoff
9:15 – Handel up 20 in Cobb
Just a few minutes ago, Ossoff had this around 10-15, but a big Handel election day vote brings Handel up to 60% in the county, and just as I was bringing it to about even, we are back into the Handel +1/2 range.
9:12 – Fulton county looks good for Handel
Just as I said Ossoff was getting back into it, we get a big dump out of Fulton that puts Handel up about 5/6 percent in that district, Ossof needed to get at least 49% in that district, he will need mail-in ballots to come in big if he wants to reach that.
9:06 – Why GA-06 is so different from the norm
Often times Dems start ahead and lose ground as E-day vote comes in, Ossoff still won early vote, but he quickly dropped once Election Day vote came in, had that held, we would've been looking at Handel +3/4, but as precincts come fully in, the narrative shifts. Politico which is tracking only fully-completed precincts, actually has Ossoff doing 2-2.5 points better than he did in April. We shall see.
9PM – SC-05 CALLED FOR RALPH NORMAN
But it was much closer than expected. Parnell did very well compared to Clinton/polls, and the amount of African-American turnout bodes well for Dems in future, but SC-05 stays red.
8:56 – More Cobb County comes in
Cobb County (58-42 for R's in a slight win in April) has some election day votes coming in, and it looks pretty good for Ossoff, this is why I said to hold the breaks on calling this for Handel, it's still early.
8:53 – SC-05… 
Adding on to what I said about Ossoff being over-hyped being actually bad for Democrats, some think that Parnell not getting much attention may have actually helped him.
If Parnell loses #SC05 by 4-5%, lots of Ds will point fingers. But it's possible he's doing well *because* he wasn't hyped, not despite it.

— Dave Wasserman (@Redistrict) June 21, 2017
8:50 – These races are practically the same at the moment
Both races have the Republican up two, I would expect that margin to go up in South Carolina, but no one expected Parnell to be this close to begin with. Also, election-day voting is looking better than expected for Ossoff, but I would still call Handel a roughly one point favorite in GA-06.
8:47 – Did Democrats hurt Ossoff by making GA-06 such a big deal?
Lots of people on Twitter right now are mentioning how Parnell, who got almost ZERO media coverage is vastly outperforming expectations, while Ossoff, who has been hyped up for months is slightly underperforming. Another thing, Democrats SHOULDN'T win the Georgia 6th, but by making it such a big deal, if they do lose, it will seem as a massive disappointment to Democratic voters, and could deppress turnout for state legislature races in VA, NJ, and WA later this year that could've been big Dem gains. Still way too early to call this for Handel, just pointing this out.
8:35 – Parnell slips in SC-05
York and Lancaster, two of the biggest counties population-wise in the district are both coming in for Norman, and therefore Parnell's underdog bid slips in the overall vote, with lots of the heavy blue and AA areas already 100% in.
8:33 – Handel's lead increases 
We are getting more and more Election Day voting in, and Handel's lead is up to 2%.
8:30 – First Election Day voting in GA-06
Handel is up about 18 points in election day voting results out of Fulton
8:23 – Ossoff vs his "benchmarks" in GA-06
I said earlier the benchmarks for an Ossoff win would be
Fulton – about 50%
DeKalb – over 60%
Cobb – 40-45 depending on turnout
so far he is at
Fulton – 49%
DeKalb – 60%
Cobb – 45%
8:19 – A Democratic Upset in SC-05?
I doubt it, as it's mainly just the blue areas reporting so far, but it seems Archie Pernell (The Democrat) is doing much better than Clinton in the district.
8:10 – All the early vote is in
Ossoff wins it 51-49, that is FANTASTIC news for Handel. For Ossoff to have any shot, he has to kill it in mail-in, and come closer than expected in election-day.
8:07 – DeKalb early vote
Ossoff up 60-40 in DeKalb early vote, that is… not good for him. Interestingly, both Ossoff and Handel doing worse than expected in their strongholds.
8:05 – Cobb County comes in
Cobb County is in, 55-45 for Handel, which is bad for her, that went 58-42 for Republicans in the primary.
8:03 – OH BOY
Ossoff takes the lead after DeKalb comes in.
7:57 – Hypothetically…
If Fulton stays where it is (<3 point lead for Handel) and the rest is in line with the primary, we're talking about a extremely tight race, like, Handel +1.
7:52 – SC-05 shifts back in Norman's favor
The AP still has Parnell up big, but our tracker at the top of the screen from DecisionDeskHQ has swung back to Norman.
7:46 – SC-05 looking interesting
AP has Parnell up 21 points, but of course, early vote will normally be good for Democrats.
7:40 – Big Dump out of Fulton county
Handel (R) – 51.4%
Ossoff (D) – 48.6%
That is good for Handel with about 1/4 of the vote counted already.
7:36 – Live vote trackers!
I've added a live SC-05 vote tracker to the GA-06 tracker, both located at the top of the page.
7:34 – WE HAVE VOTES
Sixteen to be exact, Handel 9 – Ossoff 7
7:12 – Still Waiting…
— (((Harry Enten))) (@ForecasterEnten) June 20, 2017

7:10 – 538's benchmarks for a surprise D-win in the SC-5th
As we wait for results…. this helpful graphic from fivethiryeight
7:03 – Live results tracker from Decision Desk HQ found at the top of the screen
Big thanks to them for their great work!
6:59 – HERE. WE. GO. The biggest special election… ever? POLLS CLOSE IN ONE MINUTE
I fully endorse Georgia 6 hyperbole skepticism, but like … it actually is the most important special election ever, right?

— Micah Cohen (@micahcohen) June 20, 2017
6:13 – Turnout, turnout, turnout.
That is the magic word, The amount of turnout compared between DeKalb and Cobb might decide this election. I will be back at poll closing, but I leave you with these contrasting tweets. First, DeKalb (Ossoff county) is having higher turnout early in the day then before, but later in the day, DeKalb got rainy. The question is, does the rain detract Ossoff voters, or does the early trend continue?
This is about a thousand more votes than were cast at this point in the day in-person on 4/18 in DeKalb. #GA06 https://t.co/piD2I6nAUk

— Decision Desk HQ (@DecisionDeskHQ) June 20, 2017
GA-6 is soaking wet pic.twitter.com/1tKS0nzzgO

— John Harwood (@JohnJHarwood) June 20, 2017
6:09 – What would a win do for either side in GA-06?
To be frank, not much. Republicans will spin it is a win even if Handel just barely eeks out, but this should be a district that the GOP is winning by double digits every cycle. If Ossoff won, Dems will celebrate, and it will be a good sign that they could take back the house, but this race is a bit of an aberration, this is the most expensive house race in history, and not every Democrat in 2018 are going to raise 20-30 million dollars like Ossoff did.
6:05 – No, but really, who is going to win GA-06
Honestly, I would have to edge toward a Handel win by <2% just based on previous elections. A Democrat hasn't won here since the 1990 redistricting, but an Ossoff win wouldn't surprise me at all, especially with all the money Dems have poured into this race.
6:01 – Ok, so those benchmarks are nice, but who is going to win?
Yeah, about that. The Daily Kos polling average for this race, it's a dead heat, 48.2-48.2.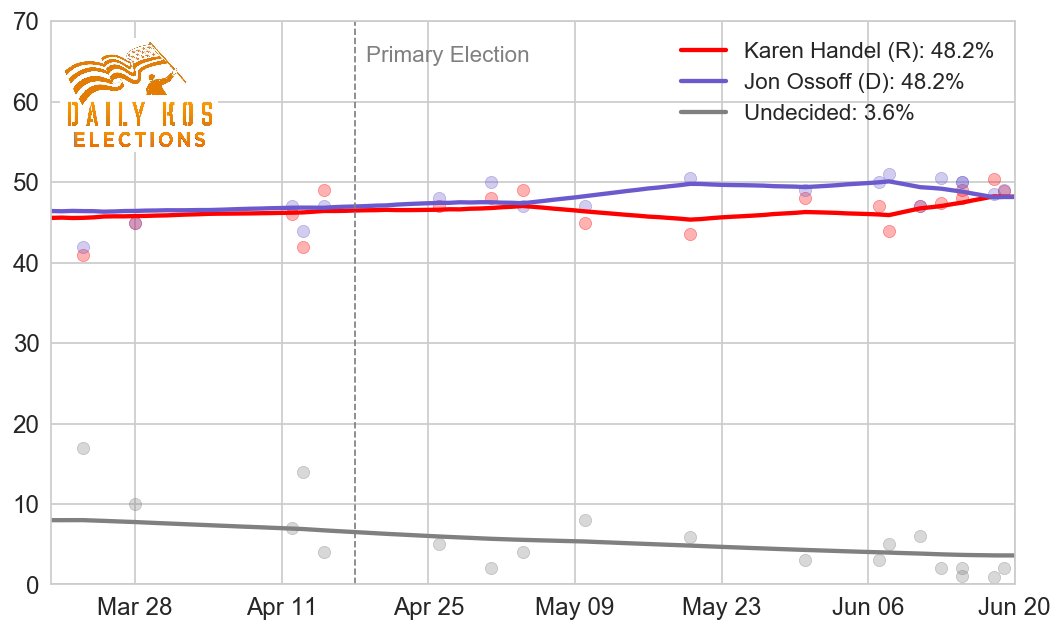 5:56 – How does each candidate win?
So, to understand the Georgia-6th, you need to know there are three counties that make it up. Dekalb, Fulton, and Cobb. Fulton county makes up about half the vote, while Cobb is slightly bigger than Dekalb. Let's look at each of them.
DEKALB
Ossoff's county, if he is to win, he has to win this by about twenty points, and he might even have to get more than that because it is the smallest of the three counties. In the jungle primary, where Ossoff lost 51-49, he hit 60% here, so he would have to slightly better for a win. If Handel hits over 40% here, that is good news for her.
COBB
This is Handel's county. In the jungle primary, where Republicans combined won overall 51-49, they got 58% out of Cobb. If Handel hits that, she is golden. If Ossoff can cut the lead to 15 points here, then that is good news for the Democrats, also, if he is about at 50% in the pre-election day voting out of Cobb, that is another good sign for him.
FULTON
The big one. This makes up about half of the district, and will probably ultimately decide who wins. It is so close that if Ossoff hits 50% here, he wins, if Handel hits 51% here, she wins. If Handel is somewhere between 50-51, we are going to be in for a LONG NIGHT. In the jungle primary, Ossoff got about 63% of the early vote here, if he hits 65 in the absentee vote, that will be a very early sign for Democrats.
All data from the jungle-primary, as well as PRECINCT-LEVEL comparison can be found here
5:45 – Wait, but looking at those charts, you'd think SC-05 would be the easier Dem win, right?
You'd think, but while Georgia sixth is maybe more red than SC-05, it's a different kind of red. GA-06 is a highly-educated, mainly white district, so while it leans Republican, it doesn't lean Trump-Republican, as you can see in comparing how Romney, a normal Republican did in the district compared to Trump.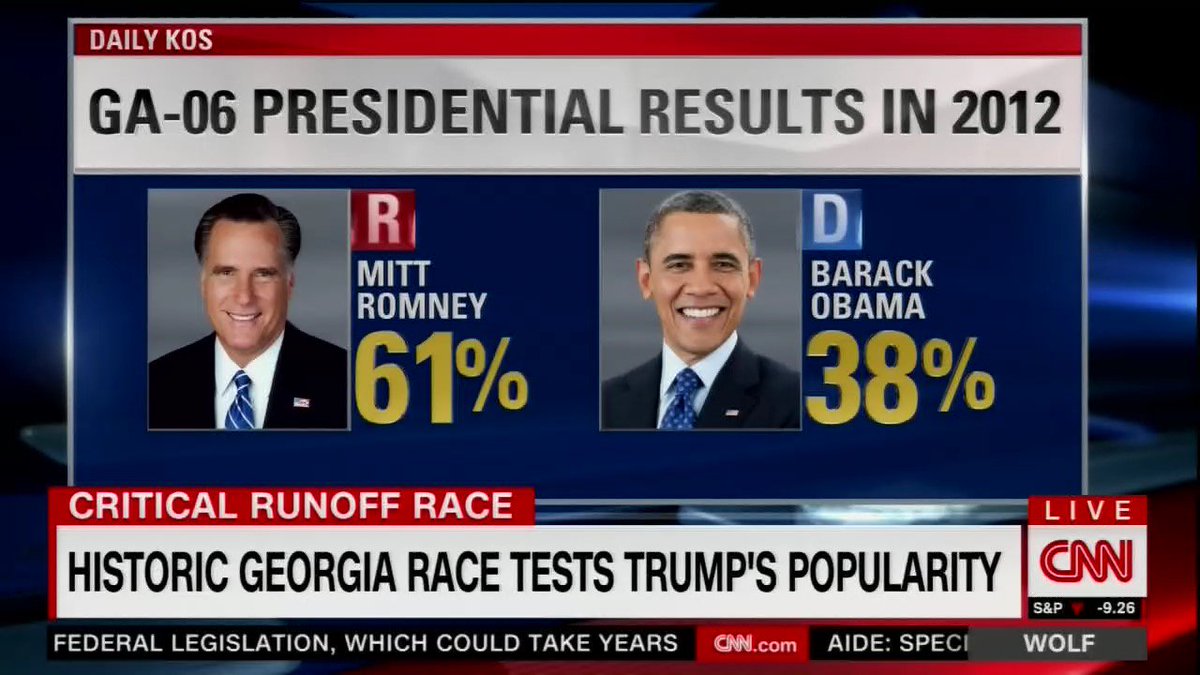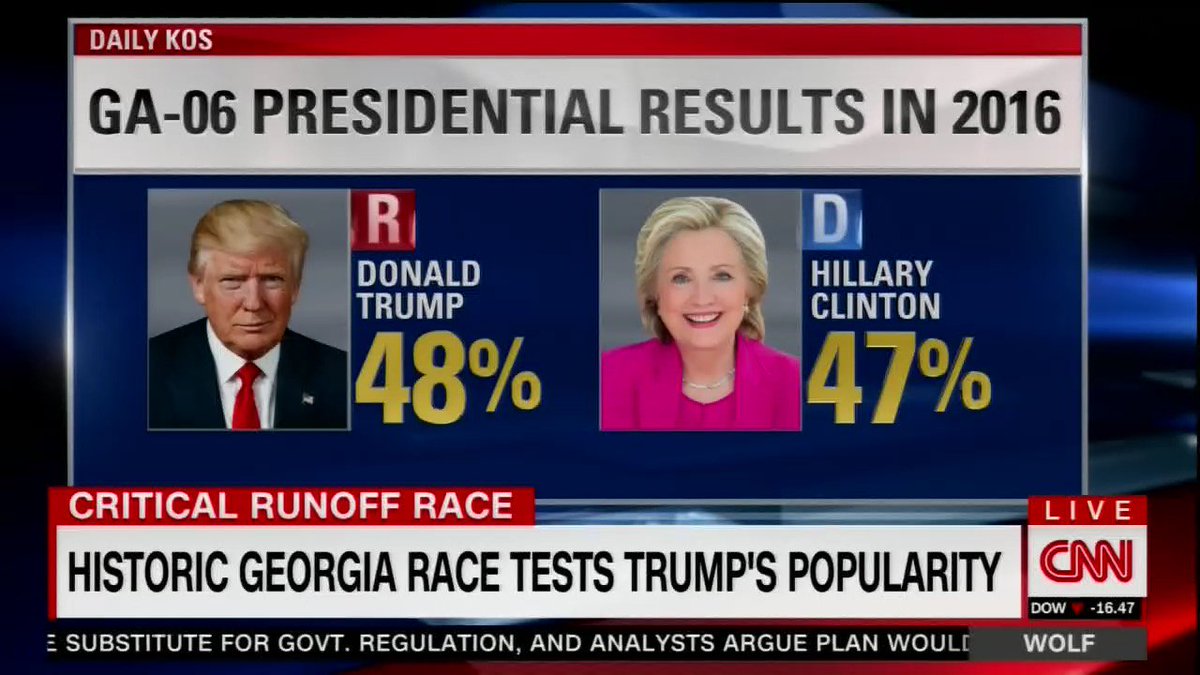 5:41 – Can you compare that to GA-06?
Sure. Since the 1990 redistricting, no Democrat has ever held the Georgia-sixth, but as you can see, in recent years it has shifted slightly more liberal.
Once again, asterisks represent when the incumbent ran unopposed
GOP margins in GA-6 House races:

1992 +16
94 +28
96 +16
98 +42
99 *
00 +50
02 +60
04 *
06 +45
08 +37
10 *
12 +30
14 +32
16 +24
17 ?

— Steve Kornacki (@SteveKornacki) June 20, 2017

5:38 – How often do Democrats win SC-05?
They used to all the time, but it has shifted more Republican over time.
NOTE: Asteriks represent when the incumbent candidate was unopposed
SC-5 House race results

1994 D+4
1996 D+9
1998 D+18
2000 D+19
2002 *
2004 D+26
2006 D+14
2008 D+25
2010 R+10
2012 R+12
2014 R+18
2016 R+20

— Steve Kornacki (@SteveKornacki) June 20, 2017
5:31 – Ok, so what should I expect from this race?
Early polls had Norman up 13 and 17 points, but the most recent poll has Parnell cutting it to nine. Norman has also vastly outspent Parnell, nearly doubling him, and the DCCC has not payed much attention to this race. A 13+ point win would be good for Republicans, a seven or less point loss would actually be good for Democrats, in fact, should Parnell cut this to a four or so point race, that might actually tell us more about the Democratic wave than an Ossoff win might.
5:30 – Wait, there is another election?
Yes, the South Carolina 5th (SC-05) also holds their special election for congress today. That seat was vacated by Mick Mulvaney, who left to become Trump's budget director. The Republican in this race is Ralph Norman (not to be confused with Virginia Governor nominee Ralph Northam) Norman is a longtime member of the state legislature, and is an ultra-conservative. He has ran his campaign based a lot on tax policy, much the same way Mulvaney did when he held the seat. The Democrat is Archie Parnell. Parnell is a former US Attorney, and like most Democrats, he has made his primary issue healthcare. This race should not be close which is why you probably haven't heard much about it.
5:13 – Welcome!
Welcome to the crazysportsdude.com LIVE coverage of the Georgia-6th and South Carolina-5th special elections. Last week I did live coverage of the Virginia primaries for the Governor and Lt. Governor races, and that did well, so I'm back for these two special elections for US-House seats vacated by members of Trump's cabinet.