THE TAPE (9/23/2017 vs UCLA)
This is the Bryce Love tape breakdown. Love is one of the most controversial players in the draft, so I figured I'd give my take. I selected the game against UCLA for no other reason than I wanted to knock out two birds with one stone and watch some Josh Rosen tape along with Bryce Love. UCLA's defense is ranked #120 in S&P+, and you'll notice that in many of these highlights. Without further ado, let's begin.
You might see me say this a lot during this breakdown: This was a good play, but it could have been better. Love runs between the two pulling lineman, but look past them. Had Love cut it to the outside, this would've been a first down for sure, there was no one near there. Love's vision and decision making really did not impress during this game. Many times (I won't show these because they are boring) he'll just get stuck behind the line with nowhere to go.
This here is a pretty good run. You've got to give some credit to the Stanford offensive line, the Cardinal have one of the best in the country, and you can notice how Love doesn't rely as much on his elusiveness as you might expect, he instead just follows his blockers and uses his crazy speed.
Here we see Love bounce it to the outside. Once he gets to the sideline, he kind of just gets pushed out, he doesn't even try a hesitation step or some other type of move that a guy like Saquon Barkley would attempt. It's a great play, but part of me can't help to think while watching this play that there will be a lot more speed in the NFL than there is on the #120 ranked defense. Love needs to break the habit of relying on his speed, because it won't be that easy on the next level.
Love is crazy fast, and he will find a home in the NFL, but watching this play, at first what you notice is his crazy speed, and you have to give him credit for that, but what is worrying, like on the last play, he doesn't even try to get those extra five yards with some type of cut (we'll get back to his cuts later).
This might actually be my favorite play of the game for Love. Throughout this tape, he got stopped at the line a lot, and here he breaks multiple tackles. It might seem silly to rank a ten yard run as his best play of the game, but just watch the way those UCLA tacklers bounce off of him, you can't arm-tackle a guy like Love.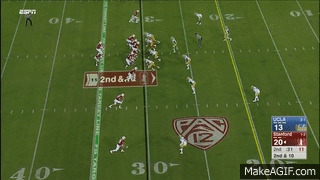 A weird play to include here, but it was his only catch of the game, and I needed a grade on his hands. He sort of catches it with his body here, and he only has six catches on the year, which makes me think that Love's abilities as a third down back aren't quite at the level of a Saquon Barkley.
It might get tiring to hear me say this, and it might sound crazy to criticize a guy that had one of the best years in the history of collegiate football, but if you watch this play, he follows his blocks, uses his 10/10 speed, but then doesn't really try anything else, you aren't going to be able to do that at the NFL level. Instead of cutting with one man to beat, he sort of slowly turns and gets stopped at the five.
This might be an example of why we don't see Love attempting cuts too often. It works for him here becuase the defender was way out of position, and he uses his breakaway speed to score a touchdown, but watch his "cut" on the shorter gif below.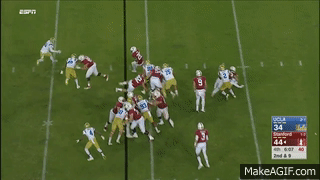 This isn't really a cut, he more or less just changes direction, and while the UCLA player (#4) falling down makes it look like Love juked him out, he would have overshot him either way. In fact, watch this a few times, and you'll start to notice that Love almost falls after making the move.
THE GRADES
Speed – 10
Agility – 7
Acceleration – 10
Balance – 7
Vision – 6
Hands – 6
Power – 6
Patience – 8
Blocking – 6
Elusiveness – 7
I realize this may seem like a crazy opinion to take of a guy that averages 8 yards per carry, but Love didn't really impress me that much in this game other than his speed. You've got to give a lot of credit to Stanford's tremendous offensive line, and some to Love for his patience behind the line of scrimmage. I thought that Love's vision was disappointing here against UCLA, and the only "power" to speak of was a few broken arm tackles. The catching could be a problem at the next level, and his lack of a real signature move and an inability to make guys miss outside of just outrunning them is also underwhelming. His speed is awesome, and he is a very fun player to watch, but when you get into the nitty gritty, I don't think he is quite at that first round level.
OVERALL GRADE: 73 (Early-Mid Second Round Talent)
*Rating Explanation* Where I think he should go, not where he will go
90+ Superstar
80+ Top Ten Talent
75+ First Round Talent
70+ Second Round Talent
65+ Third Round Talent